Sydney is an amazing world class city. It has so much to offer. One could spend an entire lifetime here exploring. I know, I have! Here are a list of some of the more interesting or must-see Sydney attractions.
Taronga Zoo
Taronga Zoo is a world class zoo on the shores of our harbour and with views of both our world famous Opera House and Harbour Bridge. It is a great place to see some of our unique animal species. This attraction is an easy 15 min ferry ride across the harbour from Circular Quay. This is the only place that many will be able to see a platypus with limited time. Taronga Zoo has a good display of Australian animals for those who do not have time to visit further afield. You will see kangaroos, wombats, koalas, wallabies, echidnas, platypus and many uniquely Australian reptiles. Not only that its unique position above the harbour provides a great vantage point from which to observe the harbour and view The Opera House and Harbour Bridge.
The Opera House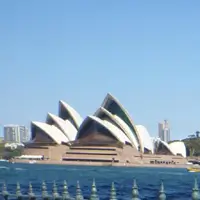 The Opera House is a unique structure and is an iconic world famous attraction. You can take a tour around it or take in a show. The location and peculiar unique shape make it a must see on any traveller's trip to our city.
The Harbour Bridge
Our Harbour Bridge, constructed in 1932, is another icon on our list of attractions. Apart from just walking across it, which in itself is a lovely experience, there is a small museum (now run by BridgeClimb) in one pillar and there is also the opportunity to climb over its structure on a Bridgeclimb walk.
Hyde Park
Hyde Park, a small park in the centre of city is another interesting free attraction. It is Australia's oldest park and a refuge for people working in the city. It is also home to amongst other wildlife, a colony of brush tail possums. Just come around after dark. Do be careful as these beautiful cuddly looking creatures do have teeth and sharp claws for anyone wanting to do them harm.
Darling Harbour
Darling Harbour is a restaurant area with lots of choices. At King St Wharf, there are a plethora of cruises available, some that depart during the day, others at night. Between the two lie a small wildlife experience where you can tick off Australian animals and an aquarium for people who are only in the city for the day and have no time to explore further. There is also a Chinese Garden located at the Southern end of Darling Harbour. This restaurant precinct often offers shows and festivals and is a well known attraction of the city.
The Rocks
The Rocks is an old part of the city. Our city (and Australia) are relative newcomers with histories that are only hundreds of years old compared to Europe, China and India where history is measured in thousands of years. Whilst it may be argued that the aboriginals (who originally came from India) were there for tens of thousands of years were there before the Rocks, they never built any permanent structures.
Sydney Tower
Sydney Tower is not only a great place to try some modern Australian cuisine, it is a place to see the city from above. Whilst the buffet normally serves kangaroo, emu and crocodile, there is also a viewing platform above the city. The restaurant revolves around so that each guest sees the city from all 360 degrees. Moreover, for those with an affliction to heights, there is an opportunity to walk outside on a glass platform at one of the highest points in the city.
Ferry Trip to Manly
No trip to our city is complete without a ferry trip to Manly and a walk to the ocean beach. The ferry trip is a wonderful way to spend half an hour each way. The beach is a lovely example of what our city offers. Once you depart the ferry at Manly, walk through the Corso until you get to the ocean beach. Once there, turn right and walk past the surf club until you get to Shelley Beach. This is actually a marine reserve. With a snorkel and mask, there are many fish including large blue Groupers, sting rays and sometimes small sharks to see. On this trip it is both the journey and the destination that make up the attraction.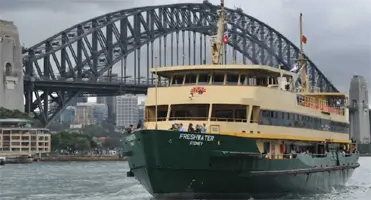 Royal Botanic Gardens
The peaceful walk past the Opera House through the Botanic Gardens and on to Lady Macquarie's Chair is a lovely tranquil area with beautiful views that take in both The Harbour Bridge and The Opera House as well as the hive of boat activity on the harbour.
Our Tours
See our tours. If you would like to go somewhere else, just ask, we are able to setup a tour to anywhere and can easily convey you to the likes of the South Coast, Hunter Valley vineyards or Jenolan Caves.
Walking with wild kangaroos
Walking with wild wombats
Urban Kangaroos